Description
Reveal Media RS2-X2 body camera Award winning design
Meet the enhanced RS2 body camera Reveal Media RS2-X2 Body Camera
It still features its award-winning design with crisp front facing screen and intuitive one touch record, and now has more articulation in the camera head. But with the new RS2, it's the inside that's been transformed.  Reveal Media RS2-X2 body camera Award winning design
Hidden qualities that make the difference
Drastically superior low light performance by automatically allowing more light into each frame in darker environments. Better image processing, clearer sound, faster upload transfers and improved on-screen displays for an overall more powerful experience.
Advanced compression technology reduces your file sizes whilst maintaining the quality, saving storage space and reducing costs.
Industry best, unbreakable AES-256 bit encrypted memory makes every recording totally secure.
 Model Variations
RS2-X2

RS2-X2L 8GB

RS2-X2L 32GB

Product code
RVL-CA220
RVL-CS225
RVL-CS227
Dimensions
3.9" x 2.2" x 1".0 (H/W/D)
3.9" x 2.2" x 1.2" (H/W/D)
3.9" x 2.2" x 1.2" (H/W/D)
Weight
4.5 ounces
5.1 ounces
5.1 ounces
Memory
8GB
8GB
32GB
Charge Time
3 hours
8 hours
8 hours
Resolutions
480p
720p
1080p
480p
720p
1080p
480p
720p
1080p
Battery life (hh:mm)
3:50
3:35
3:10
8:10
6:50
6:25
8:10
6:50
6:25
Recording capacity (hh:mm)
7:57
2:59
2:20
7:57
2:59
2:20
34:14
12:56
10:05
WATCH: REVEAL BODY CAMERA REVIEW
VIDEO: Sgt. Josh Gilliam and the Innovation Zone at Police One give their review on "one of the most popular body camera systems in the world"
Dock and Go
Simply dock your camera and our evidence management software DEMS will do the rest. The forward facing screen displays the booked out and uploading status of the camera so you can always see when it's good to go. Reveal Media RS2-X2 body camera Award winning design

Additional camera specifications
Records: Video and Audio (Audio optional)
Recording resolution: 1080p30, 720p, 480p (WVGA)
Recording rate: 25 or 30 frames per second
Video encoding: H.264
Audio encoding: Advanced Audio Coding (AAC)
Recording format: .mov or .mp4
Screen: 2" colour LCD
Encryption: AES 256-bit
Battery: Lithium polymer (internal)
On-screen display: time, date, memory, resolution, recording speed, battery life, recording space available
Audio alarms: on/off, record, stop record, low battery, low memory
Articulation: 305° horizontal, 173.5° vertical
Wide field of view: 100º horizontal, 55º vertical
Connectivity: MicroUSB, USB 2.0
Protection: IP65
Certifications: FCC & CE
Temperature range: 14°F to 122°F
Warranty: 12 month manufacturer's warranty
A variety of mounting options
For a range of user environments, uniforms, body types or personal preference; our choice of mounting options for the RS2-X2 include Klickfast stud, shirt clip, pocket clip, shoulder mounts, harnesses and car mounts.
The New and Enhanced RS2 Body Camera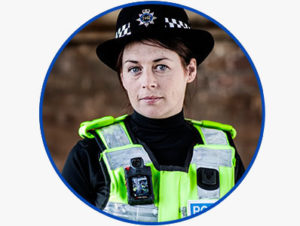 Award winning design. RS2-X2 camera Even better inside.
Front Facing Screen
Advanced Low Light
File Compression
Encrypted Memory
8 Hour Battery
Meet the enhanced RS2 body camera
It still features its award-winning design with crisp front facing screen and intuitive one touch record, and now has more articulation in the camera head. But with the new RS2, it's the inside that's been transformed
Reveal Media RS2-X2 body camera Award winning design
Testimonials
"The cameras are very straightforward and easy to use- and I'm not a technical person!"
—–Monique Hagedoorn – RNZSPCA
"The front facing screen is brilliant – you know you're being recorded when you can see yourself on a screen. The cameras are fantastic value for money. If you want the best, then you pay for the best, but there are other cameras out there where you pay a similar price but get half the product."
—–Colin Green, Security Manager
"They are proving to be first rate at reducing public order incidents and escalation."
—–Inspector Mick Bates, Metropolitan Police, UK
"The cameras have performed to our expectations – and beyond."
—-Officer James Boyd, Washington Park Police, USA
"We have other body worn video suppliers. And so have other police departments round here. We're the only ones using Reveal. And we're the only ones who are happy!"
—-Officer John Pedjac, City of Clare Police, USA
"Thank you again for your efficiency and promptness with your replies and the units turn around. For your info, they are much better and more Officer friendly so well done."
—-Andy Harwood, Sussex Police, UK
"What an awesome piece of kit, easy to use and even some of the IT shy officers are saying how simple it is."
—-Romsey Police, UK